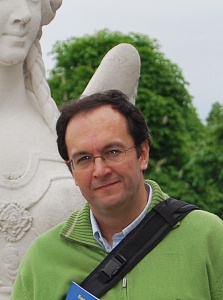 Organization :
US
information
participant in WP2 and 3
University of Sevilla, Sevilla, Spain
Antonio Delgado was born in 1966, Spain. Agricultural Engineer, PhD, Professor of Agronomy in the University of Seville (since 1996, full professor since 2009). He is director of the Agricultural Research Service of the University of Seville since 2008. As other services to the University, he has been also Director of the Office of Technology Transfer (December 2004 to April 2008) and Director of the Doctoral Office of the University of Seville (April 2008 to February 2016).
His research is mainly focused on soil fertility and fertilization management, particularly on phosphorus and iron (correction of iron deficiency chlorosis) and interaction of organic matter and microorganisms with nutrients; he has been involved in different research on saline soil reclamation and environmental impact of fertilization and soil amendment (nutrient loss from soil and trace elements enrichment).
Main researcher in 11 projects funded by public agencies. He has also been in charge of 11 contracts of research with companies and has participated as researcher in another 10 projects.
He has published 75 articles in JCR journals (with more than 1400 cites, March 2019), 9 book chapters, 2 invited presentation in international congresses, 85 proceedings and abstracts in congresses, and obtained 5 patents of invent. His h-index is 24. Since January 2014, Associate editor-in-chief of the European Journal of Agronomy. He has been also Associate Editor of the Journal of Environmental Quality (January 2009 to January 2015), Associate Editor of the Spanish Journal of Agricultural Research (2013), member of the editorial board of the European Journal of Agronomy (2013), and invited editor for special issue in Soil Use and Management. He is referee for several national and international agencies.
Key tasks in LANDMARK
Participation in WP 2 and 3